Since the late 10's, we've seen a new generation of social media. It seemed like people had gone from taking pictures of their food, to recording themselves doing short and quirky dance routines in the blink of an eye. Welcome to the age of TikTok.
TikTok was founded in Japan, back in 2012, and took quite a few years to establish itself and reach the scene in the west. However, in 2020, it hit an astounding 85.3% growth in users in the US alone, a trend that was quickly mirrored by ourselves as their European neighbours. Although TikTok's growth percentages slowed right down to a much more believable 11.8% in 2021, it now holds over 1 billion active monthly users - figures that prove to us that it's here to stay. (Statista)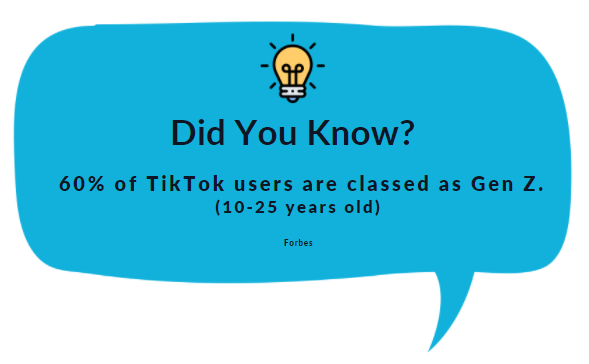 But the question is, how on earth do serious businesses get involved and gain traction from what looks like a bunch of goofy short-form videos on the surface? As the gurus on all things social media, we asked ourselves exactly the same question, and luckily for you, we happened to come up with 3 ways that you can make a difference to your business by riding the TikTok wave!
#1 Try before you buy! 🎬
We all know advertising on social media can be expensive. But… one of the best things about this channels is that it's free to make an account. If you think there might be a place for TikTok in your marketing mix, or even as a new channel for inbound DM's, then what are you waiting for? Create an account and dip your toes in! You don't have to necessarily start posting videos or creating ad campaigns just yet, but if you've got an account, then you're in the right space to do so. Check out what your competitors are putting out, what accounts they follow, and see if it's right for your business. Once you've created your account, your mission is simple: you want your content to appear on your target audience's For You page.
Unlike some of the other networks, TikTok isn't all about followers - its For You feed is custom to every user, with the content displayed selected by a complex algorithm (an automated recommendation system, the exact workings of which are kept under wraps). However, as a newbie to TikTok, there are a few things we know you can do to give your content the best chance of hitting these pages organically and building your brand awareness.
Get down with the trends
Remember the Ice Bucket Challenge? Well... what started as challenges have now turned into trends, which is pretty much TikTok's bread and butter. Whether it's killing a new dance routine, lip-syncing to the latest chart hit, or jumping on the latest soundbites, there's always something different to be getting involved with - so do it!. 21st century business centres around good culture and mental health, so it's nice to have a little fun in the workplace, and if you can hop on to the latest trending sounds, dances or challenges and add your company branding, you might start to increase awareness too. Just try to pick the trends that are most relevant to your brand and cut out any heavy sales tactics that you're used to plugging on other socials. This is not the space - and people can spot them a mile off!
Duet with other creators
Elton John and Kiki Dee, Robbie and Kylie, Paul and Barry… proof that good things come in pairs. For this theory, TikTok doesn't disappoint - it allows you to pair up with another creator using the Duet feature. Using this feature, you can piggyback on other creators' trend videos and share them both as one. Not only can this be a hit for exposing your brand, but it can also glean good relationships and even start trending if your tos and fros are entertaining enough.
Perseverance
Growing your brand through TikTok can be a lengthy process. This social channel is based around fun more than anything else. So, as we've mentioned, you're really going to have to join in to gain some traction. Using TikTok through

Orlo

, you are able to post your videos, and keep track of the Likes, Comments, Shares and Views you're getting, perfect to see whether your perseverance with the channel is paying off when deciding whether you're committing long-term.
#2 Open the floodgates 🌊
When you think of TikTok, you don't necessarily think about customer service, right? Well, we can tell you that there is huge potential for customer service use within the platform, but just maybe not in the ways you're used to. Although TikTok does utilise the familiar DM and comments section, where you can reply to queries around your brand in the usual fashion, there are a few other key features you could use to give your customer experience a unique twist.
TikTok Live
Where better to create live video content than a platform dedicated to video? TikTok Live is not just for entertainment purposes, it can also be a really valuable customer service tool, allowing your staff to demonstrate products or services and answer questions in real-time, for everyone to see. The downside of TikTok Live is that the videos are binned once they're over… but if you've advertised the session in the right way, you will make sure people turn up to the event so they don't miss out, a bit like the olden days. Behind the scenes TikTok Live videos are a great way to humanise your brand too, putting the user, customer or client at the heart of your business operations.
TikTok Q&A
If you have a creator or business account with TikTok, you will have access to their Q&A feature. This interactive feature is great for answering your customer questions in a visual way - essentially all the questions are stored in your TikTok account, and the platform allows you to answer each question directly with a new video - eventually building up a visual bank of Q&A content that has come straight from your customers. Pretty neat, right?
TikTok Stitch
Similar to Duet, the TikTok Stitch functionality allows you to integrate clips from customer or user videos and respond directly to them. The way you use that information is up to you - if you want to join in with whatever they're talking (or dancing) about, go ahead, or perhaps you could use it to respond to any pain points they're highlighting, or even point out the use of your products in their videos!
#3 Create TikTok Ads! 📱
In 2020, TikTok launched a bunch of profiles over social channels like Facebook, Instagram and Twitter under the handle @TiktokforBusiness. In their infancy, they offered great hints, tips and tricks on how to turn TikTok into a business enterprise through their newly created native platform: TikTok Ads Manager. Much like its rivals Facebook and Instagram, TikTok Ads Manager allows you to target ads based on age, gender, location, interests and more, to ensure you're reaching the right audiences.
There are also a variety of ads available through TikTok that might fit your business if you're looking to pay to get in the right spaces, including:
In-Feed ads
These run of the mill

TikTok ads are short-form videos that appear in a user's reel and,

in our opinion

, are pretty easy to miss when you're scrolling at the speed of light. Also, understandably, they're your cheapest venture into TikTok advertising space.

Brand Takeovers
If you're savvy with new-age terms, the Brand Takeover ads are pretty self-explanatory. If you're more of a billboard and booklet type though, let us explain. Brand Takeovers are a slightly longer form of video ad, and literally take over your device when a user boots up their TikTok app. Unsurprisingly,

the cost implications are heavy, but the clickthrough rates reflect this - whether those clicks are intentional or not.

TopView Ads
Much like Brand Takeovers, a TopView ad will take over a user's phone. The difference here is that it will only appear, you guessed it, at the top of the screen, and it interrupts video content rather than appearing on start-up. With TopView ads of up to 60 seconds available, these are a more affordable way of creating brand exposure than the likes of a Brand Takeover.
Branded Hashtag Challenge ads
Create a Branded Hashtag Challenge, allow users to post with it and generate noise. In a nutshell, a Branded Hashtag Challenge is a free-to-use overlay filter for other users to share. However, it does rely on you creating some hype around the brand first. Great if you're a small business that has made a big impact in the news, not so good if you're as trend-worthy as a real-life Wernham Hogg (Dunder Mifflin for those of you in the US).
Branded Effects
Much like Branded Hashtag Challenge ads, these are based on users using assets you've provided to create and share their own videos. Branded Effects are the, often hilarious, filters you see people using on their own videos. They may change the colour of certain things, or manipulate faces and environments - the possibilities really are endless. Although these are perfect for gaining exposure through viral sharing, the costs are high to deploy these ads - the technical skills and resources needed to create them can be stratospheric too, especially if it falls flat on its face.
Wrap. it. Up. 🌯
To summarise… YES, it's absolutely possible to add TikTok to your list of effective social channels. We've just scratched the surface when it comes to using the platform as a brand awareness, customer service and advertising tool, but hopefully, it's enough to get you started on your journey. One of the great things about TikTok is that as it's so new in hitting the big time in the social space, you never know what's coming next. As a result, we expect big innovations in the coming years, and we reckon it's best to already have a foot in the door before they come around. We're leading by example too, as one of the first platforms in the UK to add TikTok to our list of available channels within the Orlo platform, allowing you to schedule your posts, as well as measure the reactions to your content! And we don't plan on stopping there with our integration of the fastest growing social media platform this decade... watch this space for further functionality as the channel opens up its API!